The best selling album in Serbia is Kad Pogledaš Me Preko Ramena by Zdravko Colić with sales of 350,000 copies.
The list of best-selling albums in Serbia is based on the following sources: Grand produkcije, National Library of Serbia [shipments], Balkan Media, Blic, Ceca official site, NOVINE Toronto, Portal biografija.org, Radio Televizija Srbije. This list includes albums released since 2006 and reissues of earlier works.
Sales navigation in Yugoslavia
*- Ex-Yugoslavia includes countries and territories: Bosnia and Herzegovina, North Macedonia, Croatia, Slovenia, Serbia, Montenegro, Kosovo.
List of best-selling albums in Serbia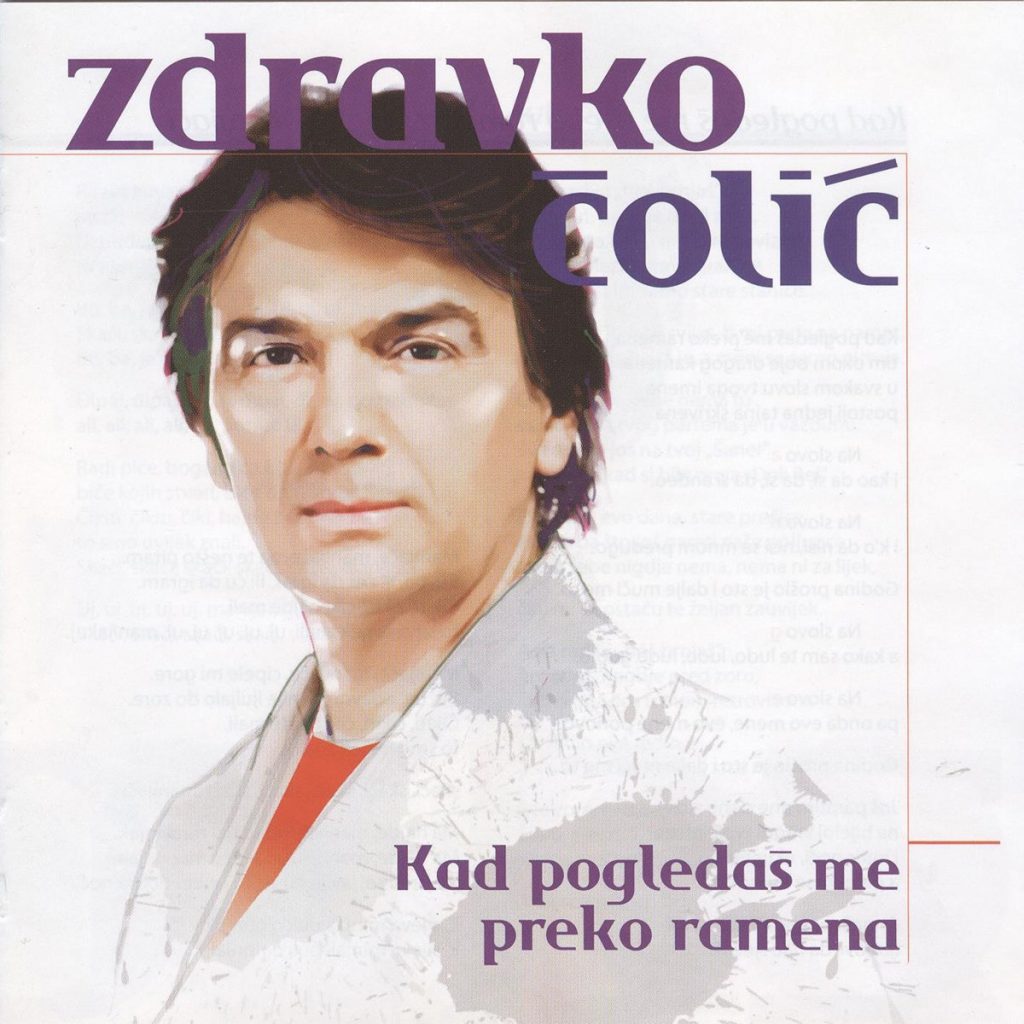 | | | | | | |
| --- | --- | --- | --- | --- | --- |
| № | Artist | Album | Source | Продажи | Year release |
| 1 | ZDRAVKO ČOLIĆ | KAD POGLEDAŠ ME PREKO RAMENA | Blic | 350,000 | 2010 |
| 2 | MILIGRAM | MILIGRAM | [shipments] National Library of Serbia | 340,000 | 2009 |
| 3 | ŽELJKO SAMARDŽIĆ | KOMPAS ZA LJUBAV – THE SINGLES COLLECTION | [shipments] National Library of Serbia | 300,000 | 2013 |
| 4 | LEPA BRENA | ZAČARANI KRUG | [shipments] National Library of Serbia | 300,000 | 2011 |
| 5 | LEPA BRENA | UĐI SLOBODNO… | [shipments] National Library of Serbia | 300,000 | 2008 |
| 6 | SEKA ALEKSIĆ | KRALJICA | [shipments] Balkan Media, Grand produkcije | 300,000 | 2007 |
| 7 | JELENA KARLEUŠA | JK REVOLUTION | [shipments] National Library of Serbia | 280,000 | 2008 |
| 8 | DARA BUBAMARA | DODIRNI ME | [shipments] National Library of Serbia | 280,000 | 2007 |
| 9 | SELMA BAJRAMI | OSTRVO TUGE | [shipments] National Library of Serbia | 280,000 | 2007 |
| 10 | BIJELO DUGME, ZDRAVKO ČOLIĆ & ĐORĐE BALAŠEVIĆ | NAJLEPŠE BALADE | [shipments] National Library of Serbia | 270,000 | 2007 |
| 11 | OLJA KARLEUŠA | BRUSHALTER | [shipments] National Library of Serbia | 270,000 | 2007 |
| 12 | TANJA SAVIĆ | TANJA SAVIĆ (DA, DA) | [shipments] National Library of Serbia | 250,000 | 2008 |
| 13 | DRAGANA MIRKOVIĆ | LUČE MOJE | Portal biografija.org | 250,000 | 2006 |
| 14 | TOŠE PROESKI | THE PLATINUM COLLECTION | [shipments] National Library of Serbia | 240,000 | 2007 |
| 15 | ACA LUKAS | LEŠĆE | [shipments] National Library of Serbia | 230,000 | 2008 |
| 16 | SAŠA MATIĆ | POKLONITE MI NJU ZA ROĐENDAN | [shipments] National Library of Serbia | 230,000 | 2007 |
| 17 | INDIRA RADIĆ | HEROJI | [shipments] National Library of Serbia | 220,000 | 2008 |
| 18 | ACO PEJOVIĆ | U MOJIM VENAMA | [shipments] Balkan Media, Grand produkcije | 220,000 | 2007 |
| 19 | SVETLANA VELIČKOVIĆ CECA | HITOVI 1 | [shipments] National Library of Serbia | 205,000 | 2005 |
| 20 | SVETLANA VELIČKOVIĆ CECA | POZIV | [shipments] National Library of Serbia | 200,000 | 2013 |
| 21 | ZDRAVKO ČOLIĆ | VATRA I BARUT | [shipments] National Library of Serbia | 200,000 | 2013 |
| 22 | ACA LUKAS | STIL ŽIVOTA | [shipments] National Library of Serbia | 200,000 | 2012 |
| 23 | DARKO LAZIĆ | GODINU DANA 300 KAFANA | [shipments] National Library of Serbia | 200,000 | 2011 |
| 24 | SVETLANA VELIČKOVIĆ CECA | LJUBAV ŽIVI | [shipments] National Library of Serbia | 200,000 | 2011 |
| 25 | DARKO LAZIĆ | BRATE MOJ | [shipments] National Library of Serbia | 200,000 | 2009 |
| 26 | SEKA ALEKSIĆ | SLUČAJNI PARTNERI | [shipments] National Library of Serbia | 200,000 | 2009 |
| 27 | TANJA SAVIĆ | SESTRE PO SUZAMA | [shipments] National Library of Serbia | 200,000 | 2009 |
| 28 | ŽELJKO SAMARDŽIĆ | KOJIM DOBROM MILA MOJA | [shipments] National Library of Serbia | 200,000 | 2009 |
| 29 | MILE KITIĆ | ŠANKER | [shipments] National Library of Serbia | 200,000 | 2008 |
| 30 | STOJA | DO GOLE KOŽE | [shipments] National Library of Serbia | 200,000 | 2008 |
| 31 | ANA KOKIĆ | ŠTA ĆE MENI IME … | [shipments] Balkan Media, Grand produkcije | 200,000 | 2007 |
| 32 | LEPA BRENA | THE BEST OF LEPA BRENA | [shipments] National Library of Serbia | 200,000 | 2007 |
| 33 | VARIOUS ARTISTS | MB GRAND FESTIVAL | [shipments] National Library of Serbia | 200,000 | 2006 |
| 34 | AMADEUS BEND | 100% | [shipments] National Library of Serbia | 200,000 | 2005 |
| 35 | INDIRA RADIĆ | LJUBAV KAD PRESTANE | [shipments] National Library of Serbia | 200,000 | 2005 |
| 36 | MILE KITIĆ | ŠAMPANJAC | [shipments] National Library of Serbia | 200,000 | 2005 |
| 37 | SEKA ALEKSIĆ | DOĐI I UZMI ME | [shipments] National Library of Serbia | 200,000 | 2005 |
| 38 | RADA MANOJLOVIĆ | DESET ISPOD NULE | [shipments] National Library of Serbia | 195,000 | 2009 |
| 39 | VIKI MILJKOVIĆ | OVDE SE NE PLAČE | [shipments] National Library of Serbia | 195,000 | 2009 |
| 40 | MILAN STANKOVIĆ | SOLO | [shipments] National Library of Serbia | 190,000 | 2009 |
| 41 | DARKO FILIPOVIĆ | OPROSTI | [shipments] National Library of Serbia | 180,000 | 2007 |
| 42 | OLJA KARLEUŠA | ZICER | [shipments] National Library of Serbia | 175,000 | 2010 |
| 43 | ĐANI | BALKANAC | [shipments] National Library of Serbia | 170,000 | 2007 |
| 44 | TINA IVANOVIĆ | MIRIS LJUBAVI | [shipments] National Library of Serbia | 170,000 | 2007 |
| 45 | LJUBA ALIČIĆ | POLAKO ALI SIGURNO | [shipments] National Library of Serbia | 170,000 | 2006 |
| 46 | LEPA LUKIĆ | ČETIRI KĆERI | [shipments] National Library of Serbia | 160,000 | 2009 |
| 47 | STOJA | NAJ, NAJ | [shipments] National Library of Serbia | 160,000 | 2009 |
| 48 | SVETLANA VELIČKOVIĆ CECA | AUTOGRAM | [shipments] National Library of Serbia | 150,000 | 2016 |
| 49 | AMADEUS BEND | KRV I NAVIKE | [shipments] National Library of Serbia | 150,000 | 2015 |
| 50 | SEKA ALEKSIĆ | THE BEST OF SEKA ALEKSIĆ | [shipments] National Library of Serbia | 150,000 | 2011 |
| 51 | TOŠE PROESKI | THE HARDEST THING | [shipments] National Library of Serbia | 150,000 | 2009 |
| 52 | SERGEJ ĆETKOVIĆ | LIVE SAVA CENTAR | [shipments] National Library of Serbia | 150,000 | 2007 |
| 53 | STOJA | THE BEST OF STOJA | [shipments] National Library of Serbia | 150,000 | 2007 |
| 54 | VLADO GEORGIEV | DO SVITANJA (EP) | [shipments] National Library of Serbia | 150,000 | 2007 |
| 55 | ZDRAVKO ČOLIĆ | ARENA 2005 UŽIVO | [shipments] National Library of Serbia | 150,000 | 2005 |
| 56 | LJUBA ALIČIĆ | S PRVOM KIŠOM | [shipments] National Library of Serbia | 133,000 | 2008 |
| 57 | SERGEJ ĆETKOVIĆ | POLA MOGA SVIJETA | [shipments] National Library of Serbia | 130,000 | 2008 |
| 58 | AMADEUS BEND | VEČERAS | [shipments] National Library of Serbia | 130,000 | 2007 |
| 59 | CRVENA JABUKA | DUŠA SARAJEVA | [shipments] National Library of Serbia | 130,000 | 2007 |
| 60 | ĐOGANI | LJUBAV MOJA | [shipments] National Library of Serbia | 130,000 | 2007 |
| 61 | TAŠA KOJIĆ | FATALNA I PLAVA | [shipments] National Library of Serbia | 130,000 | 2007 |
| 62 | TIJANA DAPČEVIĆ | STO RAZLOGA | [shipments] National Library of Serbia | 130,000 | 2007 |
| 63 | TOŠE PROESKI | IGRE BEZ GRANICA | [shipments] National Library of Serbia | 130,000 | 2007 |
| 64 | ŽELJKO SAMARDŽIĆ | THE PLATINUM COLLECTION | [shipments] National Library of Serbia | 130,000 | 2007 |
| 65 | SERGEJ ĆETKOVIĆ | KAD TI ZATREBA | [shipments] National Library of Serbia | 130,000 | 2005 |
| 66 | MARKO ŠELIĆ | NAPET ŠOU | Radio Televizija Srbije | 120,000 | 2014 |
| 67 | RADA MANOJLOVIĆ | MARAKANA | [shipments] National Library of Serbia | 120,000 | 2011 |
| 68 | SAŠA MATIĆ | X ZAJEDNO | [shipments] National Library of Serbia | 120,000 | 2011 |
| 69 | MARIJA ŠERIFOVIĆ | NISAM ANĐEO | [shipments] National Library of Serbia | 120,000 | 2008 |
| 70 | BORA DRLJAČA | BRBLJIVICA | [shipments] National Library of Serbia | 120,000 | 2007 |
| 71 | MILE KITIĆ | THE BEST OF MILE KITIĆ | [shipments] National Library of Serbia | 120,000 | 2007 |
| 72 | SEJO KALAČ | O MOM RODNOM KRAJU | Balkan Media | 120,000 | 2007 |
| 73 | MAGAZIN | BOSSA N` MAGAZIN | [shipments] National Library of Serbia | 110,000 | 2008 |
| 74 | LEPA LUKIĆ | TI SI UVEK TU | [shipments] National Library of Serbia | 110,000 | 2007 |
| 75 | LJUBA ALIČIĆ, DŽEJ RAMADANOVSKI & ŠAKO POLUMENTA | TRIO SNOVA | [shipments] National Library of Serbia | 105,000 | 2013 |
| 76 | SEKA ALEKSIĆ | LEK ZA SPAVANJE | [shipments] National Library of Serbia | 100,000 | 2015 |
| 77 | SERGEJ ĆETKOVIĆ | MOJ SVIJET | [shipments] National Library of Serbia | 100,000 | 2015 |
| 78 | DARA BUBAMARA | DARA 2013 | [shipments] National Library of Serbia | 100,000 | 2013 |
| 79 | INDIRA RADIĆ | BEST OF INDIRA | [shipments] National Library of Serbia | 100,000 | 2013 |
| 80 | SERGEJ ĆETKOVIĆ | LIVE ARENA 2013 | [shipments] National Library of Serbia | 100,000 | 2013 |
| 81 | VLADO GEORGIEV | DALJINA | [shipments] National Library of Serbia | 100,000 | 2013 |
| 82 | JELENA KARLEUŠA | DIVA | [shipments] National Library of Serbia | 100,000 | 2012 |
| 83 | AMADEUS BEND | THE PLATINUM COLLECTION | [shipments] National Library of Serbia | 100,000 | 2011 |
| 84 | ANA KOKIĆ | PSIHO | [shipments] National Library of Serbia | 100,000 | 2011 |
| 85 | INDIRA RADIĆ | ISTOK, SEVER, JUG I ZAPAD | [shipments] National Library of Serbia | 100,000 | 2011 |
| 86 | SEKA ALEKSIĆ | BEST OF SEKA | [shipments] National Library of Serbia | 100,000 | 2011 |
| 87 | ZDRAVKO ČOLIĆ | ZDRAVKO ČOLIĆ LIVE | [shipments] National Library of Serbia | 100,000 | 2011 |
| 88 | ACA LUKAS | NAJVEĆA ŽURKA NA BALKANU | [shipments] National Library of Serbia | 100,000 | 2010 |
| 89 | ACO PEJOVIĆ | NEMA TE NEMA | [shipments] National Library of Serbia | 100,000 | 2010 |
| 90 | SELMA BAJRAMI | SELMA 2010 | [shipments] National Library of Serbia | 100,000 | 2010 |
| 91 | SERGEJ ĆETKOVIĆ | 2 MINUTA | [shipments] National Library of Serbia | 100,000 | 2010 |
| 92 | TIJANA DAPČEVIĆ | MUZIKA | [shipments] National Library of Serbia | 100,000 | 2010 |
| 93 | TOŠE PROESKI | JOŠ UVEK SANJAM DA SMO ZAJEDNO | [shipments] National Library of Serbia | 100,000 | 2010 |
| 94 | AMADEUS BEND | LJUBAV & HEMIJA | [shipments] National Library of Serbia | 100,000 | 2009 |
| 95 | BORIS NOVKOVIĆ | THE PLATINUM COLLECTION | [shipments] National Library of Serbia | 100,000 | 2009 |
| 96 | GORAN KARAN | THE PLATINUM COLLECTION | [shipments] National Library of Serbia | 100,000 | 2009 |
| 97 | JELENA KARLEUŠA | THE DIAMOND COLLECTION | [shipments] National Library of Serbia | 100,000 | 2009 |
| 98 | TOŠE PROESKI | THE ULTIMATE COLLECTION | [shipments] National Library of Serbia | 100,000 | 2009 |
| 99 | COLONIA | POD SRETNOM ZVIJEZDOM | [shipments] National Library of Serbia | 100,000 | 2008 |
| 100 | ĐOGANI | THE PLATINUM COLLECTION | [shipments] National Library of Serbia | 100,000 | 2008 |
| 101 | ĐOGANI | SVILA | [shipments] National Library of Serbia | 100,000 | 2008 |
| 102 | MAGAZIN | THE PLATINUM COLLECTION | [shipments] National Library of Serbia | 100,000 | 2008 |
| 103 | MARIJA ŠERIFOVIĆ | ANĐEO | [shipments] National Library of Serbia | 100,000 | 2008 |
| 104 | RIBLJA ČORBA | MINUT SA NJOM | [shipments] National Library of Serbia | 100,000 | 2008 |
| 105 | RIBLJA ČORBA | TRILOGIJA | [shipments] National Library of Serbia | 100,000 | 2007 |
| 106 | ZDRAVKO ČOLIĆ | THE PLATINUM COLLECTION | [shipments] National Library of Serbia | 100,000 | 2007 |
| 107 | ACA LUKAS | HITOVI | [shipments] National Library of Serbia | 100,000 | 2006 |
| 108 | ANA KOKIĆ | MOJNE MALA | [shipments] National Library of Serbia | 100,000 | 2006 |
| 109 | MITAR MIRIĆ | NEKA PUCA | [shipments] National Library of Serbia | 100,000 | 2006 |
| 110 | CRVENA JABUKA | ANTOLOGIJA | [shipments] National Library of Serbia | 100,000 | 2005 |
| 111 | INDIRA RADIĆ | ZMAJ | [shipments] National Library of Serbia | 100,000 | 2005 |
| 112 | SVETLANA VELIČKOVIĆ CECA | LONDON MIX | Ceca official site | 100,000 | 2005 |
| 113 | DARKO MARTINOVIĆ | EVO, EVO | [shipments] National Library of Serbia | 80,000 | 2013 |
| 114 | MITAR MIRIĆ | THE BEST OF MITAR MIRIĆ | [shipments] National Library of Serbia | 80,000 | 2013 |
| 115 | SLOBODAN VASIĆ | MORAM DA SE PROMENIM | [shipments] National Library of Serbia | 80,000 | 2013 |
| 116 | ŽELJKO SAMARDŽIĆ | ZLATNE GODINE 2 | [shipments] National Library of Serbia | 80,000 | 2013 |
| 117 | IVAN KUKOLJ KUKI | BURMA | [shipments] National Library of Serbia | 80,000 | 2012 |
| 118 | SVETLANA VELIČKOVIĆ CECA | C CLUB | [shipments] National Library of Serbia | 80,000 | 2012 |
| 119 | AMADEUS BEND | LIVE | [shipments] National Library of Serbia | 80,000 | 2007 |
| 120 | MAGAZIN | DAMA I CAR | [shipments] National Library of Serbia | 80,000 | 2007 |
| 121 | MILENA VUČIĆ | DA L` ONA ZNA? | [shipments] National Library of Serbia | 80,000 | 2007 |
| 122 | INDY | NA RATE | [shipments] National Library of Serbia | 80,000 | 2006 |
| 123 | SEKA ALEKSIĆ | LOM | [shipments] National Library of Serbia | 75,000 | 2012 |
| 124 | NATAŠA ĐORĐEVIĆ | PIJEM, PIJEM | [shipments] National Library of Serbia | 70,000 | 2012 |
| 125 | NENA ĐUROVIĆ | DAVNO ZORA SVANULA | [shipments] National Library of Serbia | 70,000 | 2012 |
| 126 | LJUBA ALIČIĆ | UVELI CVET | [shipments] National Library of Serbia | 70,000 | 2011 |
| 127 | GORAN KARAN | DITE JUBAVI | [shipments] National Library of Serbia | 70,000 | 2008 |
| 128 | TANJA SAVIĆ | TAKO MLADA | [shipments] National Library of Serbia | 70,000 | 2005 |
| 129 | GORAN KARAN | HITOVI | [shipments] National Library of Serbia | 60,000 | 2011 |
| 130 | ŽELJKO SAMARDŽIĆ | ŽURKA | [shipments] National Library of Serbia | 55,000 | 2008 |
| 131 | TOŠE PROESKI | PRATIM TE | [shipments] National Library of Serbia | 55,000 | 2005 |
| 132 | DRAGANA MIRKOVIĆ | OD MILION JEDAN | [shipments] National Library of Serbia | 50,000 | 2017 |
| 133 | ŽELJKO SAMARDŽIĆ | MILA | [shipments] National Library of Serbia | 50,000 | 2017 |
| 134 | ACO PEJOVIĆ | PARČE NEBA | [shipments] National Library of Serbia | 50,000 | 2015 |
| 135 | COLONIA | FENIKS | [shipments] National Library of Serbia | 50,000 | 2015 |
| 136 | INDIRA RADIĆ | NIKO NIJE SAVRŠEN | [shipments] National Library of Serbia | 50,000 | 2015 |
| 137 | BORIS NOVKOVIĆ | JOŠ SAM UVIJEK TVOJ | [shipments] National Library of Serbia | 50,000 | 2014 |
| 138 | FLAMINGOSI | SETI SE NAŠEG ZAVETA B | [shipments] National Library of Serbia | 50,000 | 2014 |
| 139 | MARIJA ŠERIFOVIĆ | HRABRO | [shipments] National Library of Serbia | 50,000 | 2014 |
| 140 | MILE KITIĆ | NOKAUT | [shipments] National Library of Serbia | 50,000 | 2014 |
| 141 | SELMA BAJRAMI | TIJELO BEZ DUŠE | [shipments] National Library of Serbia | 50,000 | 2014 |
| 142 | ACO PEJOVIĆ | SVE TI DUGUJEM | [shipments] National Library of Serbia | 50,000 | 2013 |
| 143 | COLONIA | TVRĐAVA | [shipments] National Library of Serbia | 50,000 | 2013 |
| 144 | GORAN KARAN | ČOVIK TVOJ | [shipments] National Library of Serbia | 50,000 | 2013 |
| 145 | ŽELJKO SAMARDŽIĆ | ZLATNE GODINE | [shipments] National Library of Serbia | 50,000 | 2012 |
| 146 | AMADEUS BEND | NIJE SVE JEDNO | [shipments] National Library of Serbia | 50,000 | 2011 |
| 147 | BORIS NOVKOVIĆ | VIA LJUBAV | [shipments] National Library of Serbia | 50,000 | 2011 |
| 148 | CRVENA JABUKA | ZA TVOJU LJUBAV | [shipments] National Library of Serbia | 50,000 | 2011 |
| 149 | FLAMINGOSI | SETI SE NAŠEG ZAVETA A | [shipments] National Library of Serbia | 50,000 | 2011 |
| 150 | SAŠA KOVAČEVIĆ | IDEMO DO MENE | [shipments] National Library of Serbia | 50,000 | 2011 |
| 151 | SERGEJ ĆETKOVIĆ | NAJLEPŠE BALADE | [shipments] National Library of Serbia | 50,000 | 2011 |
| 152 | ELEKTRIČNI ORGAZAM | TO ŠTO VIDIŠ TO I JESTE | NOVINE Toronto | 50,000 | 2010 |
| 153 | JELENA KARLEUŠA | ALL ABOUT DIVA | [shipments] National Library of Serbia | 50,000 | 2010 |
| 154 | SAŠA KOVAČEVIĆ | ORNAMENT | [shipments] National Library of Serbia | 50,000 | 2010 |
| 155 | AKAPULKO | DRUGOVI | [shipments] National Library of Serbia | 50,000 | 2009 |
| 156 | CRVENA JABUKA | VOLIM TE | [shipments] National Library of Serbia | 50,000 | 2009 |
| 157 | ĐOGANI | RETRO COLLECTION | [shipments] National Library of Serbia | 50,000 | 2009 |
| 158 | BORIS NOVKOVIĆ | ZAPISAN U TEBI | [shipments] National Library of Serbia | 50,000 | 2008 |
| 159 | ŽELJKO SAMARDŽIĆ | BALADE | [shipments] National Library of Serbia | 50,000 | 2008 |
| 160 | AKAPULKO | PRED SVIMA | [shipments] National Library of Serbia | 50,000 | 2007 |
| 161 | COLONIA | DO KRAJA | [shipments] National Library of Serbia | 50,000 | 2007 |
| 162 | SAŠA KOVAČEVIĆ | JEDINA SI VREDELA | [shipments] National Library of Serbia | 50,000 | 2007 |
| 163 | FLAMINGOSI | GORDOST I PREDRASUDE | [shipments] National Library of Serbia | 50,000 | 2006 |
| 164 | TOŠE PROESKI | DAN ZA NAS | [shipments] National Library of Serbia | 50,000 | 2004 |
| 165 | SVETLANA VELIČKOVIĆ CECA | CECA BALADE | [shipments] National Library of Serbia | 50,000 | 2003 |
| 166 | TOŠE PROESKI | AKO ME POGLEDAŠ U OČI | [shipments] National Library of Serbia | 50,000 | 2002 |
| 167 | DRAGANA MIRKOVIĆ | 20 | [shipments] National Library of Serbia | 45,000 | 2012 |
| 168 | INDI | INDIЈА | [shipments] National Library of Serbia | 45,000 | 2012 |
| 169 | BORA DRLJAČA | JA SAM TAJ | [shipments] National Library of Serbia | 41,000 | 2012 |
| 170 | LJUBA ALIČIĆ | SVE JE LAŽ | [shipments] National Library of Serbia | 40,000 | 2013 |
| 171 | DARA BUBAMARA | SANGRIJA | [shipments] National Library of Serbia | 30,000 | 2010 |
| 172 | STOJA | METAK | [shipments] National Library of Serbia | 30,000 | 2006 |
| 173 | RIBLJA ČORBA | DA TEBE NIJE | [shipments] National Library of Serbia | 25,000 | 2019 |
| 174 | LEPA BRENA | BEST OF LEPA BRENA | [shipments] National Library of Serbia | 20,000 | 2019 |
| 175 | JELENA KARLEUŠA | THE BEST OF COLLECTION | [shipments] National Library of Serbia | 20,000 | 2018 |
| 176 | SAŠA MATIĆ | ZABRANJENA LJUBAV | [shipments] National Library of Serbia | 20,000 | 2015 |
| 177 | SAŠA KOVAČEVIĆ | KAŽITE TO PESMOM | [shipments] National Library of Serbia | 20,000 | 2007 |
| 178 | CRVENA JABUKA | TVRĐAVA | [shipments] National Library of Serbia | 10,000 | 2020 |
| 179 | CRVENA JABUKA | TAMO GDJE LJUBAV POČINJE | [shipments] National Library of Serbia | 10,000 | 2016 |
| 180 | CRVENA JABUKA | NEK` BUDE LJUBAV | [shipments] National Library of Serbia | 10,000 | 2013 |
| 181 | ĐANI | JOŠ TE SANJAM | [shipments] National Library of Serbia | 10,000 | 2010 |
| 182 | MITAR MIRIĆ | LIČIŠ NA SVE MOJE BIVŠE | [shipments] National Library of Serbia | 10,000 | 2009 |
| 183 | SELMA BAJRAMI | SELMA BAJRAMI | [shipments] National Library of Serbia | 10,000 | 2009 |
See also. Best-selling albums by country: